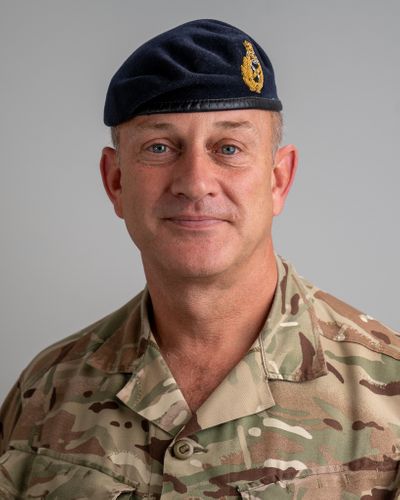 Andy Sturrock
Major General - Director of Strategy and Plans
,
Defence Infrastructure Organisation, Ministry of Defence
Maj Gen Andy Sturrock has been the DIO's Director of Strategy and Plans since Jul 2023. He is responsible for providing a single strategy, policy and plans focus for the DIO whilst delivering Digital Data and Technology, Asset Management and Sustainability. He sits on both the DIO board and Executive Committee.
Having completed a Manufacturing Engineering degree at Cambridge, Andy commissioned into the Royal Engineers in 1996. He spent his junior officer career in close support, general support and Territorial Army engineer units, including tours in Kenya, Northern Ireland and Bosnia. After completing an MSc in Defence Technology and the Advanced Command and Staff Course he undertook his first MOD staff appointment as SO2 Capability in Army Resources and Plans.
Command of 5 Field Squadron followed, including deployment to Iraq on Op TELIC 10 and re-rolling to armour. He was briefly an instructor at the Defence Academy on the Intermediate Command and Staff Course (Land) before promotion to lieutenant colonel. As an SO1 in the army strategy branch he worked as part of a small team charged with shaping the Army's approach to the Strategic Defence and Security Review 2010. And then commanded 39 Engineer Regiment, providing support to Op HERRICK, Op ELLAMY, Op KIPION, Op CATALINA, Op PROTEGO and Op OLYMPICS as well as numerous oversees and UK exercises and moving the Regiment from Waterbeach to Kinloss.
Promotion to OF5 brought a return to Main Building as Colonel Army Plans in Finance and Military Capability (FMC) Capability Plans where he led the small Army team during the 2015 Strategic Defence and Security Review. Andy also acted as the FMC lead on all defence workforce issues. Following 3 years in Main Building he returned to education as a member of the Royal College of Defence Studies.
He entered the infrastructure world in Sep 2017, on promotion to Brigadier, as Head Army Infrastructure Plans. In this role he led the transformation of the Army infrastructure function in preparation for the delegation of infrastructure budgets in Apr 2018; wrote the Army Infrastructure Sub-Strategy; and managed the Army's infrastructure budget and delivery programme. After three years he moved to UK Strategic Command as ACOS Infrastructure, with responsibility for planning, funding and delivering all infrastructure services across a UK and Overseas estate that supports the delivery of critical National and Defence capabilities. He managed a budget of c£600M a year and was the SRO for several major capital investment programmes.