05 Apr 2023
SMS and Samsung to deliver Government-funded heat pump trial in Oxford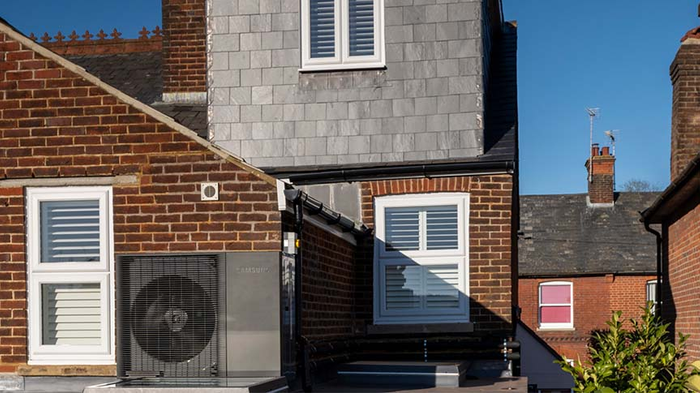 The project plans to install up to 150 heat pumps in Rose Hill, Oxford, using a streamlined approach to installations that will save time, money, and resources to encourage more people to adopt heat pump technology.
Energy solutions business, SMS plc, has partnered with technology giant, Samsung, on a heat pump trial in Oxford after the joint 'Clean Heat Streets' project was awarded additional Government funding of £3.2 million.
The project has been selected for the Heat Pump Ready funding programme through the UK Government's Net Zero Innovation Portfolio to address the challenges facing the national adoption of sustainable heat pump technology.
Following a successful feasibility study, the second phase of the project aims to trial an innovative methodology for heat pump deployment. By installing up to 150 heat pumps in Rose Hill, Oxford, Clean Heat Streets will explore how key barriers to heat pump uptake can be overcome. This includes streamlining the complex survey and installation process in order to reduce the high installation costs that consumers currently face.
As part of its ambition to become a net zero carbon city by 2040, Oxford City Council has identified that over 30,000 air-source heat pumps need to be installed across the city by 2040. However, heat pumps can currently take up to a week to be fitted in some cases. During the feasibility stage of the project, SMS – working alongside local heat pump experts, Alto Energy, and Samsung – developed a customer journey that significantly reduces the time and resources required to install the technology. The part-automated process could be upscaled nationwide in the near future to support the UK Government's wider net zero 2050 target.
Taking this streamlined approach forward, and through the economies-of-scale of implementing a street-by-street delivery model, the Clean Heat Streets project will ultimately be able to offer a lower installation cost to the homeowner.
The consortium will also explore how a large amount of heat pumps can be installed within a particular area without causing problems to the network– for example, by causing very high peaks in demand for electricity on winter evenings. The project has identified two electrical substations in Rose Hill at Courtland Road, and Fiennes Road which will connect to the proposed new heat pumps in the area. Electrical substations are a key part of heat pump operation, helping supply renewable electricity locally to provide a zero-carbon source of heat to homes and businesses.
In addition to providing solutions to address affordability and accessibility, Clean Heat Streets has partnered with the local Distribution Network Operator (DNO) to identify any local network constraints and opportunities to use the flexible smart control of heat pumps. Working closely with energy suppliers, SMS will also leverage smart metering and half-hourly settlement of electricity, helping avoid the need for expensive grid upgrades and connection charges – enabling more cost-effective, simple-to-understand tariffs for customers.
Gabor Szabo, Energy Solutions Developer, at SMS, said:
"The feasibility stage of this innovative project showed that there is a huge opportunity to utilise the latest features of digitalisation and automation to improve the current heat pump installation process. Through implementing these advancements, we're demonstrating how to remove many of the key barriers facing the rollout of this low-carbon technology, resulting in a lower overall system cost to both consumers and the suppliers.
"Working on this project has been yet another important step forward in SMS's mission to support the nation's net zero ambition as we continue to develop, deploy, and innovate a range of low-carbon technologies and solutions. We are currently working closely with the Rosehill and Iffley Low-Carbon Group to understand the residents' needs and build further consumer trust in the efficacy and affordability of renewable heating solutions."