29 Aug 2023
SMS installs 25 new EV chargepoints in Elmbridge, Surrey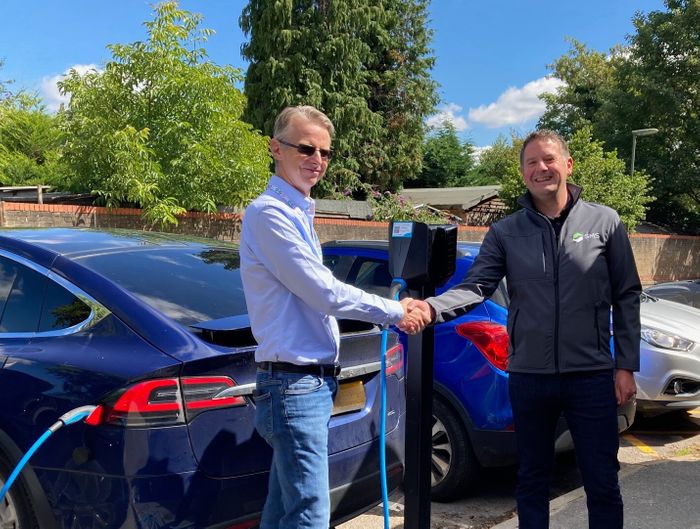 Elmbridge residents and those who work in the borough are to benefit from the installation of 25 new electric vehicle (EV) chargepoints.
ln line with its 2030 Vision for a thriving and sustainable local community, Elmbridge Borough Council (Surrey, UK) appointed energy infrastructure group, SMS plc, to increase EV charging availability by fitting the charging stations across eight separate, council-owned locations:
Civic Centre (High Street, Esher, KT10 9SD)
Claygate Centre for the Community (Elm Road, Claygate, KT10 0EH)
Cobham Centre for the Community (Oakdene Road, Cobham, KT11 2LY)
Community Transport Depot (River Mole Business Park, Mill Road, Esher, KT10 8BJ)
Drewitts Court (Pay & Display Car Park, Hepworth Way, KT12 1AE)
Hersham Centre for the Community (7 Queens Road, Hersham, KT12 5LU)
Molesey Centre for the Community (Bishops Fox Way, West Molesey, KT8 2AS)
Walton Centre for the Community (Manor Road, Walton-on-Thames, KT12 2PB)
These installations will help to improve access to EV charging points in Elmbridge and support the borough's fleet, employees and residents with switching to EVs, marking another positive step towards improving local air quality and reducing carbon emissions.
The EV chargers at Claygate, Cobham, Hersham and Walton-on-Thames will be available to residents between 18:00 and 08:00, seven days a week.
SMS also installed four 22kW chargers at Elmbridge Borough Council's Civic Offices, as well as six 22kW and one 60kW rapid charger at the council's Transport Depot. Infrastructure for a further nine passive chargers have also been placed there, which will be connected as more of the council's fleet transition to electric vehicles as part of its Green Fleet Strategy. The combination of rapid and fast (overnight) chargers have been installed at the Depot to ensure the charging needs of Elmbridge's EV fleet are fully met.
Work has additionally been undertaken to fit four 22kW chargers at Drewitts Court car park in Walton-on-Thames. The 25 EV chargers installed by SMS in total come in addition to the 12 EV chargers already located in Elmbridge's pay and display car parks.
Councillor David Young, Portfolio Holder for Climate Change and Sustainability at Elmbridge Borough Council, said:
"Working with SMS to improve accessibility to EV charging in the borough has been a crucial step forward in our sustainability journey, and will help our residents to make the switch to electric vehicles. At Elmbridge Borough Council, we prioritise protecting the natural environment, and this will help us to reduce our carbon emissions and improve air quality within our neighbourhoods."
Lee Feihn, Head of EV Infrastructure at SMS, said:
"Providing smart and accessible energy solutions for communities is the heart of what we do, and it's a pleasure to partner with Elmbridge Borough Council to enhance EV charging options in the area and help them realise their sustainability goals.
"SMS's industry expertise and engineering capabilities enable us to manage the end-to-end design, installation, and deployment of EV charging infrastructure in Elmbridge. We are confident that we've provided the best solution for the borough, which will ensure more of the area's transport fleet, residents and workers have access to EV chargers as and when they need them."
Earlier this month, SMS appointed Eugenio Herrero as Managing Director of its new Public EV charging infrastructure division. The company also released a whitepaper looking at the current state of public EV charging in the UK – having surveyed the opinions of 1,000 UK EV drivers – and provided a blueprint for how to go about addressing the gaps of EV charging infrastructure.