This snapshot reflects a wide-ranging discussion on shaping future markets for demand side flexibility at the Power Responsive steering group meeting on 4 July 2017, held under the Chatham House rule. It considers the interplays between current markets for flexibility beyond Balancing Services, taking into account feedback from the Power Responsive Conference, and the views of customers and providers.
Existing Markets & Services
Asheya Patten (National Grid) gave an overview of existing markets and services. The System Needs and Products Strategy document, gives a future view on the needs for the system and services required, setting out some potential options to simplify and standardise Balancing Services. But there are other markets and ways of making money. The role of the Enhanced System Operator will include understanding how its actions and the actions of other actors impact on different markets.
The Balancing Mechanism (BM), Ancillary Services, Wholesale Market and Capacity Market (CM) all affect one another and the economics of providers. The markets have become decoupled. There is a question as to how they might be linked / reconfigured in future to deliver stronger investment signals in a more flexible, decentralised energy system where, rather than a few big players, there are a multitude of parties and new technologies.
There are also different and new market opportunities, in particular as Distribution Network Operators (DNOs) contract for local network services. Options include:
 Wholesale markets with nodal pricing within a distribution system,
 Dynamic distribution use of system (DUOS) charging,
 Distribution system balancing platforms,
 Local energy markets.
Balancing Mechanism
The BM allows the System Operator (SO) to balance supply and demand within gate closure. BM parties provide bid & offer prices, the SO chooses most economic solution to manage residual balancing. The BM facilitates access to mandatory frequency response and obligatory reactive power. There is some question as to whether gate closure is at the right point.
The number of BM participants is reducing. BEIS is looking at options to widen access to the BM – including the role of aggregators and how to encourage end consumer engagement. There are various proposals for addressing spill and developing a BM Lite option. There could be significant opportunity for flexibility through an opened BM. But participation is difficult for smaller parties. Consideration is needed on the benefits and risks of non-locational Balancing Mechanism units (BMUs).
Wholesale Market
Most trading of electricity is over the counter, or via power exchanges (10-15% traded volume each month). Ofgem's secure and promote initiative has increased liquidity, making it easier for smaller players to trade. But baseload products dominate and most trading happens in market-making windows. Should there be further obligations on parties to balance their position; and how could peer- to-peer trading affect the market (e.g. Blockchain)?
Capacity Market (CM)
The CM is intended to drive investment with a cleared auction price to deliver capacity 1 to 4 years ahead. Parties receiving renewable subsidies are precluded. Currently, it tends to provide a long-term signal with shorter-term signals from the Wholesale Market and Balancing Services. There are challenges with low levels of competition in Demand Side Response (DSR) auctions. It was suggested that the CM was designed with power station thinking, and little understanding of aggregation, whereas STOR has progressively become more and more suitable for aggregators.
There was a sense that although the CM is supposed to be 'technology agnostic' it is not because contract lengths, metering arrangements and baselines vary for different technologies. Some felt 15 year contracts are too long and referred to 1-year contracts in the US. Storage operators tend to want longer contracts and DSR providers look for shorter contracts, with everyone treated the same.
The System Needs and Products Strategy consultation is considering contract length for Balancing Services, with a straw poll at the conference showing an almost equal split between people wanting: long-term; short-term; or a mix of contract lengths. Long-term contracts can lock out innovation, and transfer risk to customers. It was noted that there have been European developments for pan- European day ahead and within day balancing tools and balancing products (Project TERRE), with the potential move toward shorter term markets.
Code Modifications
A number of relevant code modifications were highlighted:
 P344 – aligns the Balancing and Settlement Code (BSC) with the European Balancing Project TERRE (Trans European Replacement Reserves Exchange). Offering a degree of BM access for customers.
 P355 – introduces BM Lite to allow smaller generators to offer energy to the System Operator for energy balancing, in competition with the larger BM Units already in the market.
 P354 – considers the issue of spill and non-spill. Demand side response is able to access some revenue on top of STOR prices. Power stations access special interest zone.
Elexon is looking at ways of communicating code modifications more clearly, and simply to customers. National Grid is also considering how to explain them and their interactions in lay terms.
Regional & Local Network Services
There will potentially be a shift to regional markets, with the transformation of DNO to DSO (Distribution System Operator) and a different way for SOs to interact. These new market arrangements will need to be tested (e.g. regional market prices, platforms). There was some question as to how responsive customers will be to more granular and localised price signals. The Energy Networks Association (ENA) is undertaking work to inform DNO pathways.
Electric vehicles will have an important role in local markets e.g. electric charging networks and electrifying taxi fleets. Virtual communities could develop and interact with markets (e.g. BMW drivers). Customer and community groups may become more active.
DNOs currently offer "alternative" connections (e.g. for distributed generation and storage) – which means a quicker and/or cheaper connection, by agreeing to reduce capacity under certain conditions. DNOs have various different connection arrangements, and approaches to local network services.
Customers expressed concern about the layering of additional mechanisms, with added complexity, and how distribution level balancing platforms would interface with the BM.
Route to Market for Customers
It was suggested that perhaps schemes could be designed starting from the customer perspective, where customers say what assets they have and what flexibility they can offer, through a platform. Markets will be driven by market actor need, but they could be designed with smaller players and customers in mind.
There is a risk for customers being sold a 'pot of gold.' With lots of new actors entering the market; the value for flexibility may not stretch far. Unrealistic propositions are sometimes made to customers from (certain) aggregators. A few careless or dishonest parties can damage trust in the industry as a whole. It is difficult for customers and investors to determine which propositions are credible. Investor expectations may also be unrealistic e.g. calling for long-term contracts and 10% rate of return.
Storage providers spend a lot of time undertaking due diligence and reviewing offers/Power Purchase Agreements, and they are seeing a big difference in offers made. The Crown Commercial Service (CCS) has a new framework for DSR, to support public sector access to markets, working with six aggregators. National Grid's Business Development team is tracking people entering the market and the points where some drop out.
Industry-led Code of Conduct for Aggregators
There was support for the work of the Association for Decentralised Energy (ADE) to develop a voluntary, industry-led code of conduct for aggregators. This will give assurance that ethical business standards are adhered to; lets customers see which providers are meeting standards; and ensures bids/proposals include common elements so different products can be compared.
The code addresses five areas: sales and marketing; proposals and pre-contractual information; contract; technical due diligence and site visit; and complaints. It will be governed and enforced through a process of: 1. adjudication, 2. enforcement and 3. scheme removal. It has been developed through a committee of aggregators, suppliers, industrial customers and their representatives. Ofgem and BEIS attended as observers. It will be published shortly, and open to consultation.
Feedback from the conference focused on the importance of data security and protections, and ensuring the code has 'teeth'. There was also discussion about whether it is better to have a code that is like 'Trip Advisor' which includes all aggregators – with user ratings to see which are considered better than others, or to take parties off the list/code completely if they are in breach – to maintain quality.
Conclusion & next steps
Flexibility means different things for different players. There are large numbers of smaller players, asking for simplicity. But the definition of simplicity is important. Einstein said "everything should be made as simple as possible, but no simpler". We need to make markets sophisticatedly simple.
This discussion focused on the markets we have today and how they might evolve, but what might forward-looking markets look like – for energy, capacity, balancing and flexibility? Will markets remain separate or will they come together?
This discussion will continue during Year 3 of Power Responsive, with the anticipated BEIS & Ofgem Smart System's Plan and National Grid's upcoming Product Strategy, which will consider what happens in adjacent markets.
Sustainability First 5 July 2017
Energy is one of the most significant costs for a business and reducing it by just a few percentage points can have a significant impact on profits. Recent research however, seems to show a disconnect between the opportunities identified by energy decision makers and getting them signed off in the boardroom. CEOs typically have three key motivations – building shareholder value, sustainable business success and creating a legacy. By comparison, reducing the energy bill is often regarded as a deep operational issue and any investment required not looked upon favourably. We can all picture the charismatic Sales Director showing ambitious sales curves for increasing revenue and yet a similar contribution to profits by reducing energy spend is often overlooked.

To really highlight the opportunities here, consider that in order to pay their energy bills, Morrisons must sell two full shopping trolleys every second; Mitchells and Butlers must sell 7,200 pints an hour and Whitbread must sell over 400,000 hotel rooms each year. In the last example a 5% bill reduction is equivalent to running a small hotel at full occupancy!
A recent Telegraph/YouGov survey of senior managers and directors revealed that 46% of senior managers had no idea what their company spends on energy and 54% of them had no idea who was responsible for their energy management.
Given that a fifth of the businesses surveyed spend more than £250,000 per year on energy it's surprising that only one in three of the survey's respondents claimed to have a good handle on energy procurement. An added problem is that only 47% said that staff understood their energy policies. That may be down to the Energy Decision Makers themselves; the survey indicates that only 17% of the 750 businesses regularly discuss sustainability issues with staff and almost a third (31%) never do so. If it's buy-in they are seeking, communication is the cornerstone.
"Almost half of senior executives don't actually know what their business spends (on energy). We work with the energy decision makers in thousands of companies to help reduce their costs and develop greater self-sufficiency and resilience." Phil Gilbert, Director of Energy Solutions, E.ON.
These facts are also supported by the data collected during the ESOS audit and released by the Environmental Agency. While nearly 97% of the completed audits were carried out by external lead assessors and a large majority of audited companies have discussed results at board (74%) and Senior management (90%) level, 60% of companies declared having no energy efficiency targets and only 6% have published information relating to their ESOS audit. Despite this 72% of those companies were open to adopt some form of energy efficiency measures.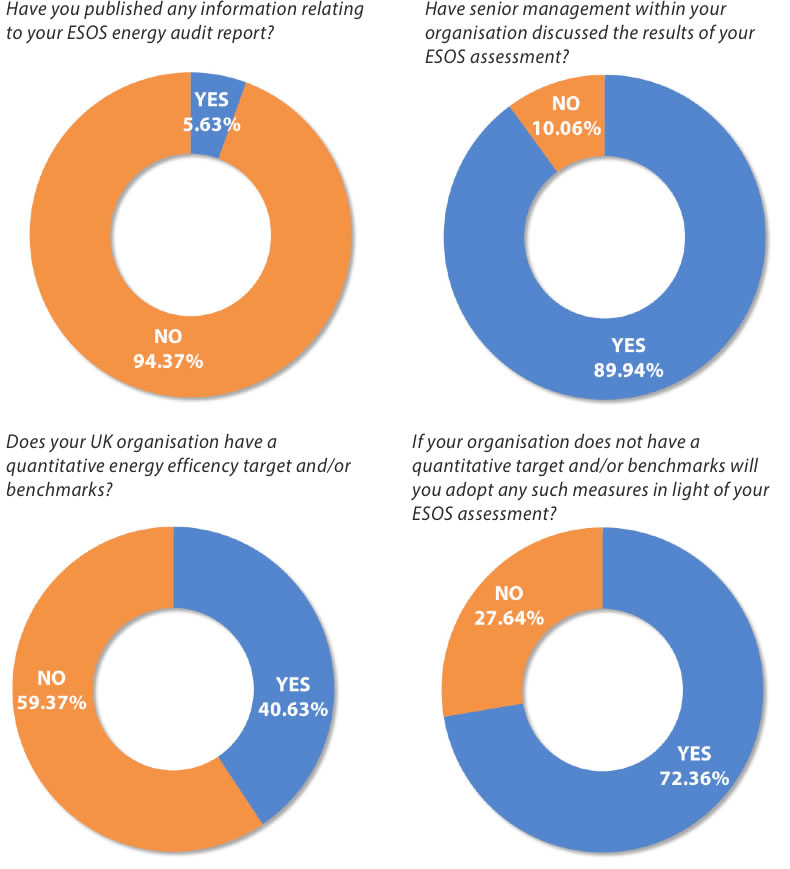 "Quite simply, business cannot afford to ignore energy and carbon reduction any longer – the financial and risk implications are too great." Lord Redesdale, CEO, Energy Managers Association.
The Energy Managers Association (EMA) is keen to understand more about how energy management has evolved and more importantly any obstacles to progress further.
The EMA is conducting a survey in association with E.ON and would really value your input.
It won't be onerous to complete but could help to change the landscape for our profession.
Full results will be shared with all participants with an invitation to the official launch in November at EMEX.
This is an interesting question – one that is also increasingly popular.
A new publication from the Institution of Engineering and Technology (IET) highlights that for organisational energy management to be effective, it must be the responsibility of everyone with staff, contractors and visitors all having key roles.
The IET Guide to Energy Management aims to provide clear and concise information that can be developed and applied to a number of different building set-ups. The new Guide will help readers understand what managers, staff and guests should do to plan and deliver a coherent, successful energy management plan.
Often, the role of the energy manager is to turn the lights off, but for a business to operate successfully the role of the engineering manager is to keep the lights on. There may be a potential conflict of interests, but the energy manager and the engineering manager both need to work together. For energy managers, international document ISO 50001 provides a framework using the universal plan, do, check, act model that is often adapted to manage improvements in the engineering world.
The requirements covered in the Guide provide assistance in understanding the context of buildings and how to adapt the process to reduce the consumption of energy in a meaningful way.
Cameron Steel, the publication's author, said: "Following extensive consultation and input from the best in the industry, I am pleased that the IET Guide to Energy Management is now published for engineers and energy managers alike. It contains tools, insights, best practice approaches and case studies, all collated in one document to guide organisations' energy management programmes. Those with a non-technical background will also benefit from the publication.
"Like health and safety, energy management in the workplace should be everyone's problem. In the IET Guide to Energy Management, the various roles and responsibilities of staff, contractors and visitors are discussed. This will help you to understand what you, your colleagues and guests should be doing between you to plan and deliver a coherent, successful energy management plan for your particular organisation."
For more information, visit www.theiet.org/em-guide1.
The IET will be exhibiting at EMEX, the UK's premier energy management exhibition, taking place at EXCEL London on 22-23 November. Visit the IET stand to learn more about the Guide and attend topical seminars on all areas of energy management. Register for free at www.emexlondon.com
Ends
Notes to editors:
 Looking for images to accompany your engineering stories? Use the IET's media image library to highlight the exciting, creative and dynamic world of engineering.
  Interview opportunities are available with IET spokespeople from a broad range of engineering and technology disciplines including cyber-security, energy, engineering skills, innovation, manufacturing, technology, transport and women in engineering.
  The IET is one of the world's largest engineering institutions with over 168,000 members in 150 countries. It is also the most interdisciplinary – to reflect the increasingly diverse nature of engineering in the 21st century. Energy, transport, manufacturing, information and communications, and the built environment: the IET covers them all.
  The IET is working to engineer a better world by inspiring, informing and influencing our members, engineers and technicians, and all those who are touched by, or touch, the work of engineers.
  We want to build the profile of engineering and change outdated perceptions about engineering in order to tackle the skills gap. This includes encouraging more women to become engineers and growing the number of engineering apprentices.
  For more information, visit www.theiet.org
Media enquiries to:
Robert Beahan, External Communications Manager
T: +44 (0)1438 767336 M: +44 (0)7595 400912 E: rbeahan@theiet.org
Helen Rognaldsen, Head of Communications
T: +44 (0)1438 767226 M: +44 (0)7841 211005 E: hrognaldsen@theiet.org
The largest U.S. companies are increasing their clean energy and energy efficiency efforts while improving their bottom lines — and playing an important role in the decarbonization of the U.S. electric power sector. That's the key finding of the latest Power Forward 3.0 report, which evaluates clean energy data provided publicly by Fortune 500 companies and is published by Calvert Research and Management (Calvert), CDP, Ceres and World Wildlife Fund (WWF).
Power Forward seeks to inform companies, investors, the electric power sector, and state and federal policymakers on key trends and preferences among large corporations taking action to reduce emissions and use renewable energy. It also is intended to encourage companies in and out of the Fortune 500 to better understand the need for and benefits of renewable energy and emissions-reduction commitments.
STRIDES IN TARGET SETTING
Nearly half of 2016 Fortune 500 companies have set targets to reduce greenhouse gases (GHG), improve energy efficiency, and/or increase renewable energy sourcing – up 5 percentage points from the last report in 2014. These and other findings are based on 2016 company reports to CDP as well as other public sources.
The strongest efforts are among Fortune 100 companies, with 63 percent adopting or retaining such goals. Notable strides have also been made with regard to the smallest 100 companies in the Fortune 500, with 44 percent setting goals in one or more categories, up 19 percentage points from 2013. Overall, the highest percentage of companies with targets was evidenced in the consumer staples sector, while the energy sector (mostly oil & gas companies) had the lowest percentage.
Businesses are reaping bigger and bigger cost savings rewards from energy-efficiency projects implemented to meet targets, with 190 companies collectively reporting $3.7 billion in annual savings. That amounts to a collective emissions reduction comparable to taking 45 coal-fired power plants offline.
KEY TRENDS
The most significant new trend among the Fortune 500 is the increasing ambition of goal-setting leaders, as companies move to establish science-based targets and set 100 percent renewable energy goals. A science-based target utilizes the best available climate science to define a company's appropriate share of the emission reductions required to limit global temperature increases to below 2 degrees Celsius.
As of January 2017, 210 companies from around the world have set or committed to set such targets through the Science Based Targets initiative. Among those are 10 Fortune 500 companies, including Procter & Gamble, General Mills and Kellogg Company. Additionally, 72 Fortune 500 companies (14 percent of the list) have reported to CDP2 and/or the Science Based Targets initiative that they intend to set such a target within two years.
Nearly two dozen Fortune 500 companies, including industry giants Wal-Mart, Bank of America, Google and Facebook, have committed to taking an all-renewable approach, powering all corporate operations with 100 percent renewable energy, compared to only a handful a few years ago.
Growth in overall target-setting over the past several years has been steady, with a net total of 25 Fortune 500 companies adding targets since the last Power Forward 2.0 report was issued in 2014. Forty-eight percent of Fortune 500 companies (240 companies) now have climate and/or energy targets, up 5 percentage points from the previous report. On average, companies reported an 81 percent success rate in achieving or exceeding their targets on time.
BOTTOM-LINE BENEFITS
Pursuing and achieving clean energy goals has yielded financial benefits to these companies. Nearly 80,000 emissions-reducing projects were behind the $3.7 billion in savings captured by 190 companies in 2016 alone. Praxair, Microsoft and IBM are among the companies saving tens of millions of dollars every year through energy-efficiency efforts. Companies also decreased their annual emissions by 155.7 million metric tons of CO2 equivalent, which is equal to taking 45 coal-fired power plants offline for a year.
Our energy mix is at a crossroads. Providers are focusing on decarbonising while system operators need to meet growing demand. By shifting load through storage devices, onsite Dynamic Response could cost-effectively help balance the grid.
Energy regulator Ofgem has a problem. Large generating assets that have provided baseload for in some cases the last 50 years are being decommissioned or will soon be taken out of service and there has been not much built to replace them.
There has been a large increase in wind and solar but this has caused its own problems due to the increase in intermittency. There is a real prospect that at peak periods there may not be enough supply to meet demand.
To counter this problem there needs to be capacity to provide power to meet peak shortfalls. Ofgem has a target to provide 30-50% of balancing service capabilities by 2020 from Demand Side Response (DSR).
DSR is based on companies reducing their demand to match signals from the system operator through aggregators. The only drawback is that there is little appetite for providing this service from industry so if we are to avoid power shortages then a new approach is needed.
The solution could be Dynamic Response. This is a battery based solution with load shifting power from off-peak periods through battery storage to be used by consumers at peak periods. Dynamic Response works on tested and trialled models and does not require the development of new technology or control systems.
How would dynamic response work?
Dynamic Response charges onsite batteries when there is excess generation and uses the power onsite at peak periods of demand. The system is suitable for both domestic and commercial use and would be used to reduce cost to the consumer. However, although the concept is simple, to make it a reality all the income streams need to be understood.
Through market reforms the use of batteries placed 'behind the meter' could be incentivised to provide demand reduction services during times of peak grid use. The consumer charges their batteries during times of excess supply (when the price point is reduced) and then uses this energy to power their own needs when there is excess demand – thereby reducing the load on the grid. In contrast to DSR, the consumer does not need to reduce their operational needs.
The value to the battery owner is based around a simple income stack although there will need to be changes away from paying only for generation to a system where demand reduction commands the same value.
Income stream options
At times of excess generation the batteries could be paid to soak up generation. This would capture intermittent renewable generation and through load shifting turn it into baseload power with a far higher unit value.
Using the power that has been stored to reduce the cost of power at peak times to customers. The main costs avoided would be transmission charges or time of use tariffs.
By creating a way to reduce demand at peak, Dynamic Response assets should be able to compete in the energy markets against generating assets such as diesel.
The economies of this system are becoming compelling not least because the prices of batteries are falling. A mature Dynamic Response marketplace would probably involve independent aggregators owning large numbers of batteries at multiple sites.
The system is scalable and would not rely on subsidy but could lead to a decentralised grid that was not based solely on baseload generation but fluctuating generation that is levelled by storage at demand sites. Dynamic Response would reduce the cost across the system and as a by-product reduce the carbon intensity of the present system.
This is an exciting new area that could see thousands of properties having batteries installed but to make it a reality the grid needs to recognise this as a real solution that could shift gigawatts of power.
Storage is already part of the government's industrial strategy and if balancing mechanism unitsis a means of paying for grid levelling services include Dynamic Response services then a whole new industry could be built.